Palacio Catering & Conference Hall, Goshen NY – Mike & Lisi's Wedding!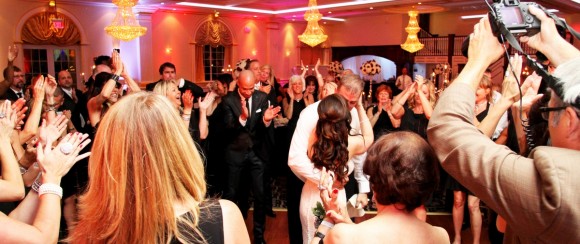 It was a gorgeous summer day at the Palacio Catering & Conference Center! The sun was shining with a light cool breeze making for the perfect setting to this outdoor ceremony under the veiled semi-open tent. Outside, we provided sound and a wireless microphone for the Cellist and Officiant using our wireless power source! We couldn't have asked for a more perfect day for this ceremony!
After Mike and Lisi were officially pronounced man and wife, their guests proceeded inside where they were met with smooth jazz and multiple food stations for the cocktail hour. Shortly after, the patio was opened with an enclosed tent housing additional food stations and a second bar. An additional wireless sound system was setup for the guests outside grabbing a drink and enjoying the fresh air. As the sun began to set, our ambient uplighting was turned on to give the tent a beautiful upscale lounge vibe.
n the main reception area we set up our Unforgettable Package featuring Full Room Uplighting, a Custom Monogram, Multiple Lighting Pillars and an unmatched lighting show. A custom slideshow was displayed on 2 large screens on each side of the ball room. We also uplit the food stations, the wedding cake and the gorgeous ice sculptures! They really pulled out all the stops for their guests.
Once the Reception began, there was no stopping the dance floor! Guests young and old danced to everything from Pitbull to Michael Jackson, to Bon Jovi & More! This was definitely one of my favorite weddings and I'm glad to have been a part of it!
Thank you again!! We absolutely loved working with you, you are the best!!"
Check out the video and some of the pictures from the night below!